To escape seemingly endless April-slash-spring fog that has been trapped in Taghazout for couple of days already, we decided to rent two cars and make a trip to Paradise Valley to check out some local lakes and just hike a little bit for a good health. To get change from the surf camp scene.
Place itself is not far from Taghazout, just 40 kilometers, but the road is gets smaller and smaller by every kilometer you come closer to the valley. At some point it is all dusty road along the mountain cliffs and when someone comes from opposite direction you have to find a enough space to squeeze through.
Anyway, we went and sun came out already after 10 kilometers from Taghazout. Awesome were thinking. Sun is all we need.(And some food and water). Didn't have music in the car and radio wasn't working between the hills. So we left with our own voices. Someone clapped, someone made backbeat and everybody else was singing along to the song someone started. 🙂
But once were there and parked our car, we started our small hike. First time we went there we got lost, but this time we make it better, for sure.
At the beginning of the trail there are some orange juice sellers who can squeeze you a fresh drink for 10 dirhams, there are also some lakes you can swim in already for lazy walkers, but it is also crowded. We wanted our own spot.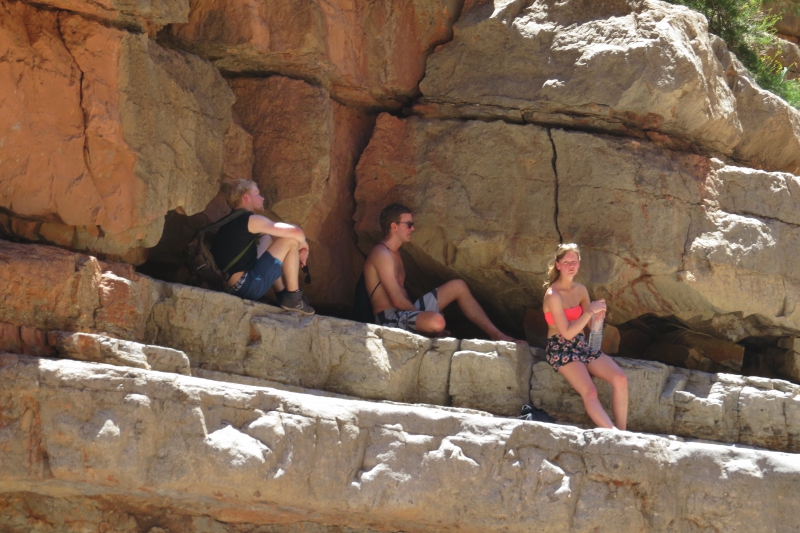 So we hiked, we hiked slowly. Sun was taking our sweat and hills took our breath. We passed couple of lakes full of people, but we kept going until we reached to the end of the known valley and there it was. Small clear lake with chilly water.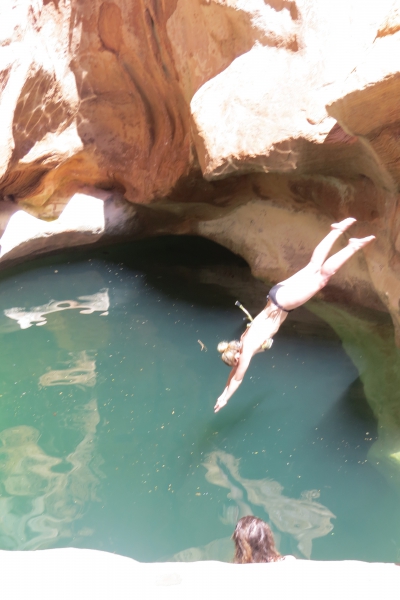 There we settled down for a whole day, swimming and sunbathing, swimming and drinking hot mint tea, sunbathing and jumping from the cliff and napping in the sun. Oh, it felt great, just let your body to be in the sun. Sun therapy all over. Hehehe.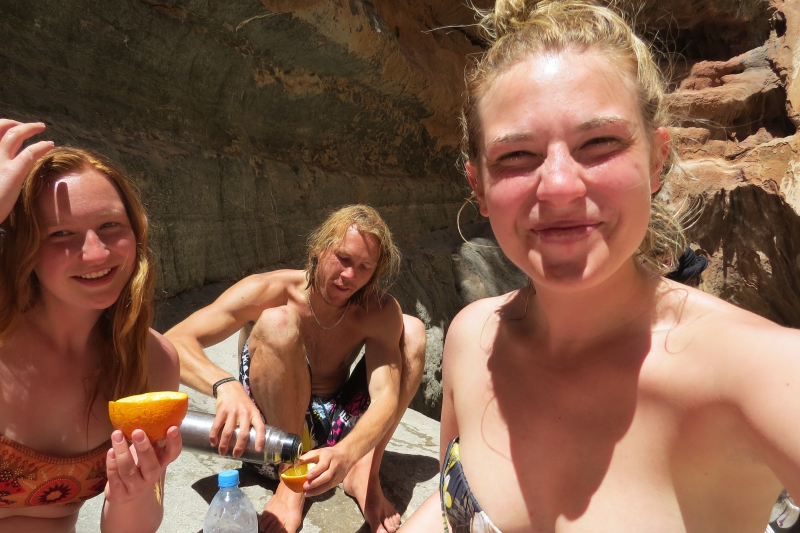 Everybody was satisfied, feeling great, everybody was happy.