Nadrupe, Lourinha, Portugal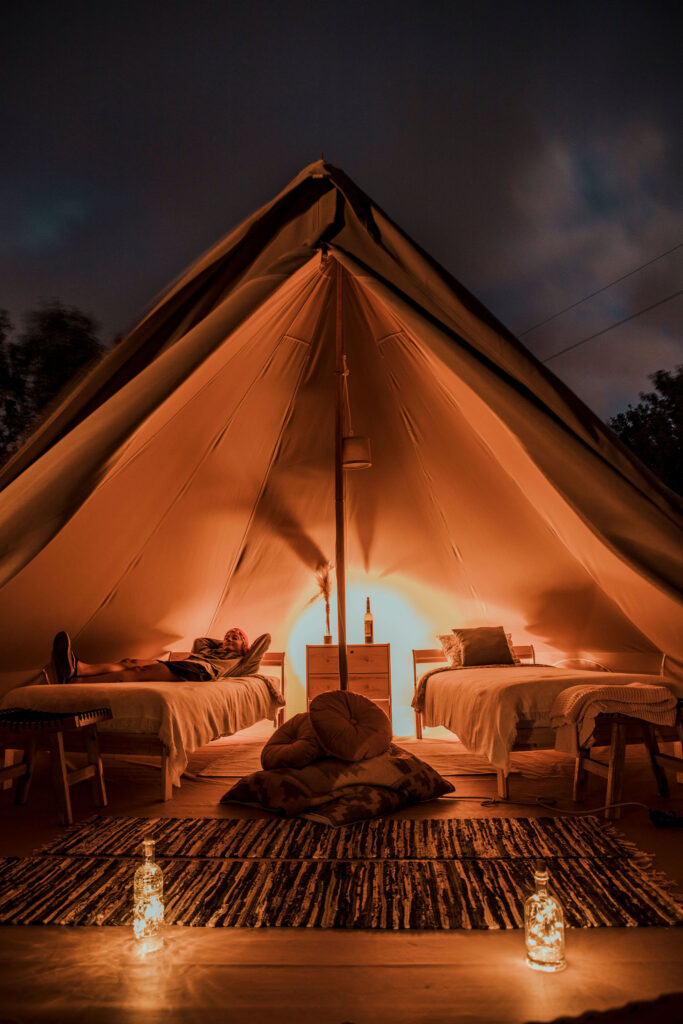 Experience Glamping in Portugal
Accommodation:
Comfortable accommodation in a glamping tent placed on top of a wooden deck
A romantic double bed or twin bed setup with linens and towels included
Your own private wooden terrace to share with your friend
Electricity and light inside the tent
Access to shared bathroom facilities
Pet-friendly policy for those traveling with furry friends
Meals:
Healthy and hearty breakfast buffet provided every day
Dinner provided 5 evenings a week (Wednesdays and Saturdays are dinner-free evenings)
After breakfast, do your own sandwiches for the beach
Coffee, tea, water, and fruits available all day for free
 
Perfect for couples, friends, solo travelers, and families. Pets are welcome.
Minimum stay is 3 nights.
Available from April until October
Welcome to Glamping in Portugal
The Glamping is located in Nadrupe, Lourinha! We offer an adventurous and super comfortable glamping experience, just 5 km from the seaside. Our scenic and peaceful surroundings provide the perfect backdrop for your next holiday.
Our accommodation is situated in the middle of a large organic fruit garden, giving you a unique and tranquil place to rest. Each guest has their own private terrace, and for a truly special experience, you can spend a night under the stars in our barrel sauna.
At The Far End Surf House, we offer a range of activities to make your stay even more enjoyable. Take part in yoga, surfing, or simply relax on the beach. We also offer personalized surf lessons and surf guiding for all levels at our beautiful home beach, Praia de Areia Branca, just a 10-minute drive away. Other popular surf spots like Baleal, Supertubos, and Peniche are reachable within 20 minutes by car.
Each day starts with a delicious buffet breakfast and ends with a healthy, home-cooked dinner prepared on-site. We provide laundry and airport transfer services upon request, to make your stay as hassle-free as possible.
The Far End Surf House is conveniently located just 50 minutes from Lisbon Airport. Book your stay now and experience the perfect glamping holiday in Portugal!